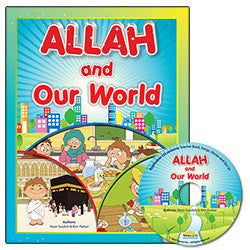 The long-awaited Islamic Studies kindergarten curriculum is here! Allah and Our World is bursting with songs, stories and illustrations that will delight and captivate students and teachers alike.
Students are introduced to Allah as The Creator. Through stories, songs, Quranic ayaat, lessons from the sunnah and seerah, and engaging activities, students learn about the might and majesty of Allah and how to worship Him though attention to His creation. So begins the child's knowledge and awareness of Allah (taqwa). Students then explore their relationship with Allah throughout the units and their additional relationships with family, community and the world with age appropriate examples from the Qur'an and examples of Prophet Muhammad(s) .
Allah and Our World comes complete with everything teachers and parents need, from lesson plans and supplemental resources to accompanying CD-Rom containing Qur'anic recitation, narrated stories, songs and full color 'must have' Teacher Edition, companion to the Student Book.
Features:
Islamic:

'Ibadah.
Pillars of Islam.
Qur'an.
Hadith.
Sunnah.
Seerah.
99 Names of Allah.

Educational:

Current Core Curriculum standards.
Critical thinking questions and extension activities.
Cognitive learning.
Abstract thinking.
Reasoning.
Problem solving.
Decision making.
Role play.





CD-Rom